Peregrine Falcon
Hook Mountain: since 1971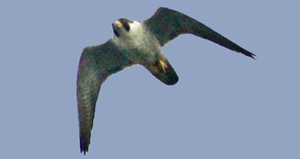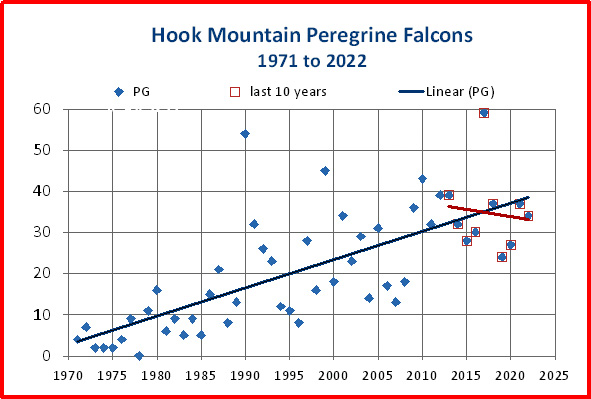 I
nterpretation (GRB):
More Peregrines now than in the 1970s:
The number of Peregrine Falcons counted at Hook over the last 44 years has been increasing steadily, but with greater variation than the increase in Merlins. The average count in the first ten years was 5.7, compared to 30 in the last ten years.
Peregrine populations have recovered from the crash of the DDT era, and we now have Peregrines nesting in our area. We often see them flying up the river and around the Hook. It can be difficult, sometimes, to determine whether a Peregrine flying towards the west is a migrant or a local that is hunting a large territory.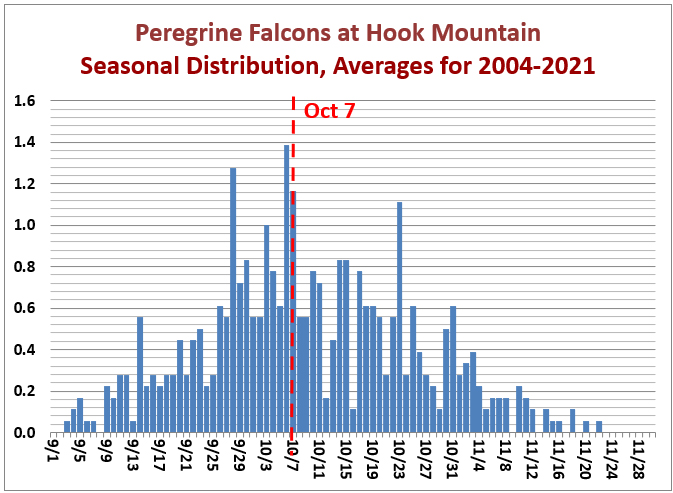 About the trend lines:

The intent of the trend lines is to provide an overview of the general trend. The graphs show two trend lines: 1971 - present, and the last 10 years. The Hook Mountain Hawk Watch began in 1971, and the points with blue markers indicate the totals for all these years. The points that show red squares around the blue markers represent the last ten years, showing the trend in this last decade.

The "Since 1971" trend line in blue was tested for significance. Equations in bold are statistically significant. The "Last 10 Year" trend was not tested for significance.
more about trend lines . . . .
Updated 10/28/2017, Trudy Battaly