Merlin
Hook Mountain: since 1971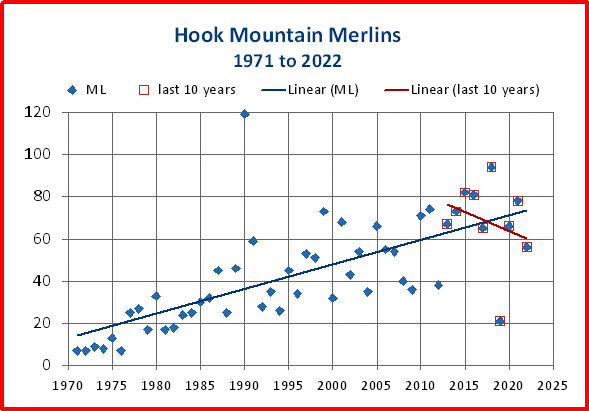 I
nterpretation (GRB):
Good News:
The number of Merlins counted at Hook has slowly increased over the 41 years of the watch, from an average of 15.3 in the first ten years, to an average of 52.8 in the last 10 years.
During this last decade the count has shown greater variation than earlier. The 10 year trend line shows a very slight incline, but the extent of variation offers no confidence that a increase really exists for the last 10 years. It is possible that the Merlin numbers are beginning to stabilize. It will be interesting to see which happens, a continued increase or a stabilized population.
About the trend lines:

The trend lines have not been tested for significance. Their intent is to provide an overview of the general trend. The graphs show two trend lines: 1971 - present, and the last 10 years. The Hook Mountain Hawk Watch began in 1971, and the points with blue markers indicate the totals for all these years. The points that show red squares around the blue markers represent the last ten years, showing the trend in this last decade. more about trend lines . . . .
Updated 01/12/2016, Trudy Battaly