Broad-winged Hawk
Hook Mountain: 1971 - 2011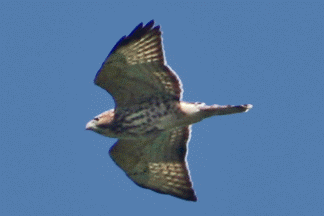 interpretation
about the trend lines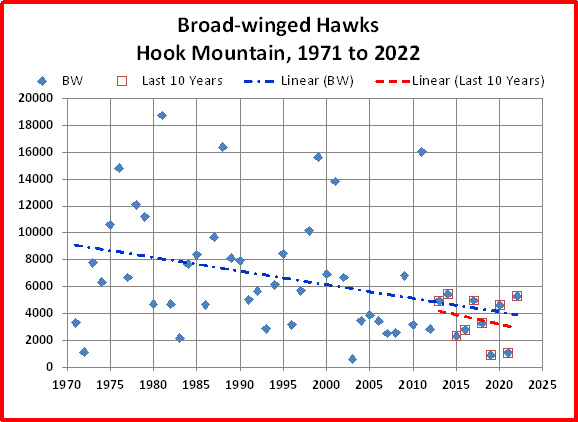 I
nterpretation (GRB):
Variable, but lower than in other decades:
The numbers of Broad-winged Hawks at Hook Mountain have been variable over the years, with no strong long-term trend. However, seven of the 12 years with totals less than 4000 BWs have occurred in this decade, in sequence: 2003 - 2008, plus 2010. In 2011 we happily counted 16,023 Broad-wings, with a single day count of 14,670!
About the trend lines:
The trend lines have not been tested for significance. Their intent is to provide an overview of the general trend. The graphs show two trend lines: 1971 - 2008, and 1999 - 2008. The Hook Mountain Hawk Watch began in 1971, and the points with blue markers indicate the totals for all these years. The points that show red squares around the blue markers represent the last ten years, showing the trend in this last decade. more about trend lines . . . .
Updated 12/12/2011, Trudy Battaly