NEHW CONFERENCE




COMING!




MARCH, 2019




Let people know that
you are a
hawk watcher,

that you care
about
raptor conservation,

and that
YOU COUNT!

NEHW
License Plate Holders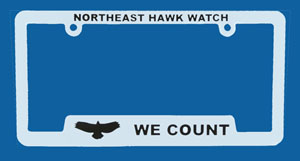 Order Yours Now!
---
CONFERENCES
2015
2011
NEHW

NorthEast Hawk Watch

Interested in Hawks? Join us!

---
Mount Peter, NY: Amazing! Fantastic! - their 60th Year!
New Hampshire Audubon: Migratory Raptors
Fire Island Hawk Watch, Islip NY: Summary of 2017 Season (arrow down, turn on speakers) includes monarchs, whales, and fox
Montclair Hawk Watch, NJ: Visit, Views, Excitement (arrow down, turn on speakers)
American Kestrels, NYC: AK in 14 Languages Newsletters
Not local, but could be:
The Revelator, CA: Raptors to the Rescue
---

The NorthEast Hawk Watch (NEHW) is a registered not-for-profit organization established and run by volunteers to increase awareness, appreciation and protection of our daytime birds of prey. We do that primarily by promoting hawk watching, the study of hawk migration, throughout New England, eastern New York, and northeastern New Jersey.

We have several hundred members spread across eight states and work with local bird clubs, Audubon chapters, other hawk-watching organizations, and individuals to promote hawk watching in the northeast.

The most tangible benefit of membership is that every spring we publish a hawk migration report, approximately 36 pages long, covering the spring and fall migration hawk watch counts for most of the 8-state area for the previous year. These reports provide the most complete and authoritative data on hawk migration counts in the northeast, and trends in those counts, available anywhere. The reports are mailed to all members. We don't have club meetings, but we sponsor periodic conferences on hawks and hawk migration in the northeast. These are usually held in the early spring every four years. Our last conference was April, 2011. (See also: 2006 Conference)

For more information about hawk watching and hawk migration, please contact one of the people listed below. They can tell you when and where to hawk watch in your area, provide additional information on hawks and hawk identification, and supply report forms if you'd like to submit counts.

To join the NorthEast Hawk Watch and receive the annual hawk watch report mailed out each spring, simply print out, complete and return the membership form. Membership dues are $10 a year. (Individual copies, including back issues are available for $5 each plus $1 postage.)
---
IN CELEBRATION OF MIGRATING HAWKS!
The Big High, by Polly Brody
---
Connecticut: Renee Baade, 46 Obtuse Rd., Newtown, CT 06470 rbaade@juno.com
Maine, New Hampshire and Vermont: Julie Brown, 151 Antrim Rd, Hancock NH 03449 brown@hmana.org
Massachusetts & Rhode Island: Paul Roberts, 254 Arlington Street, Medford, MA 02155 phawk254@comcast.net
New Jersey & New York: Drew Panko, 14 Dunham Rd, Hartsdale, NY 10530 dpanko@pipeline.com
---
NEHW Membership Watch Sites HMANA NEHW Board
Search these pages
Updated 06/13/18
NEHW
Hawk Migration Reports; QUIZ
NEHW
on Facebook!
---
We are a chapter
of HMANA
---