Cooper's Hawks

at

Hook Mountain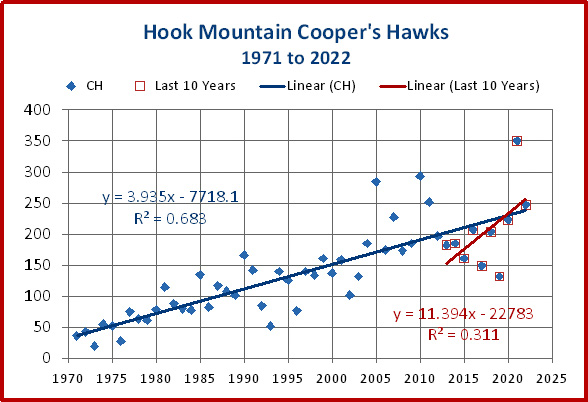 I
nterpretation (GRB):
A Successful Species: The number of Cooper's Hawks counted at Hook has steadily increased since 1971. Compared to an average of 125 per year for the 44 years since the Hook Watch began, the average for the last 10 years is 215. For every one of the last 10 years (boxed in red above), our count has been higher than in any of the previous 34 years. During the last 10 years, however, numbers seem to have leveled off. It will be interesting to see what the next 10 years will bring - will Cooper's Hawk numbers continue to rise on the long-term trend, or have we reached a plateau?
About the trend lines:

The trend lines have not been tested for significance. Their intent is to provide an overview of the general trend. The graphs show two trend lines: 1971 - present, and the last 10 years. The Hook Mountain Hawk Watch began in 1971, and the points with blue markers indicate the totals for all these years. The points that show red squares around the blue markers represent the last ten years, showing the trend in this last decade. more about trend lines . . . .
Updated 01/12/2016, Trudy Battaly