The Banding/Birding Experience
Studies and Publications | Experience Fire Island | Fun with Shawn | Winter Owls
---
Northern Saw-Whet Owl
Aging Saw-whets by Flight Feathers
Telemetry: 37 Days, Fall 2010 | Nesting in Westchester County!
Westchester Community College | Pelham Bay videos | Harriman/Bear Mountain | Recaptures
Telemetry: 24 days of a fall migrant | Gateway NRA | Coloboma
Bill Snapping audio
---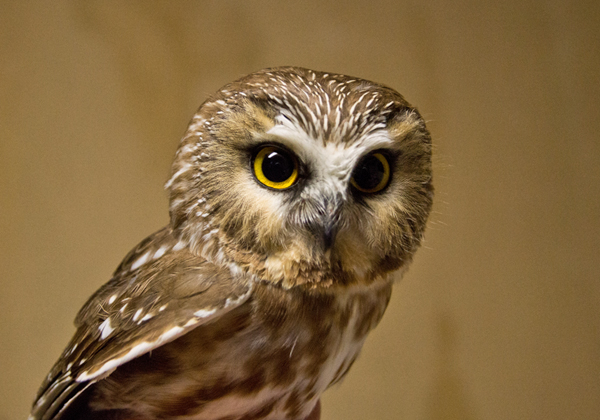 First owl of 2014 at WCC is a Hatching Year Female Northern Saw-whet Owl
The
Age of a Sa
w-whet Owl

is determined by examinating the wing for flight feathers of different ages.
| | | |
| --- | --- | --- |
| The feather indicated by the white line is the oldest primary, and is so worn that it is broken at the tip. The feathers with the most pink are the newest, formed after this year's breeding season. We aged this owl as ASY, meaning that she is at least in her Third Year; she hatched at least as early as 2009. | | |
Flying Squirrel in nets, 11/06
Banded at Westchester Community College, 10/26/06
The 2006 season began with 2 NSWOs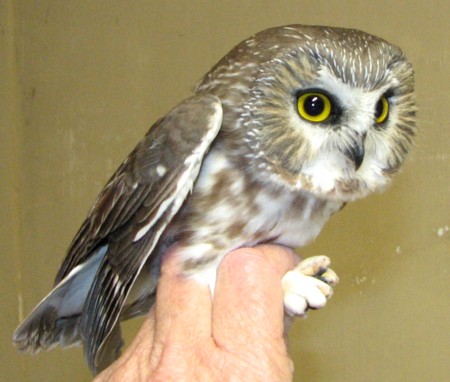 The first was a HY Female, found on campus at 5PM the next day.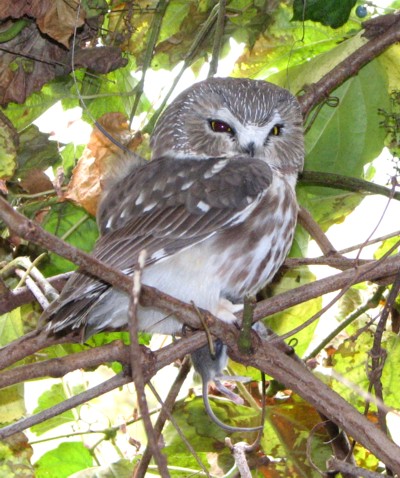 and again both morning and evening of Oct. 29, 2006, with a mouse!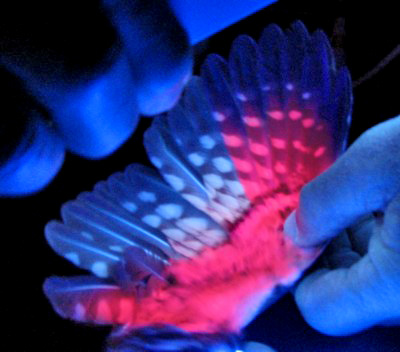 The second was a probably SY Female (UV photos)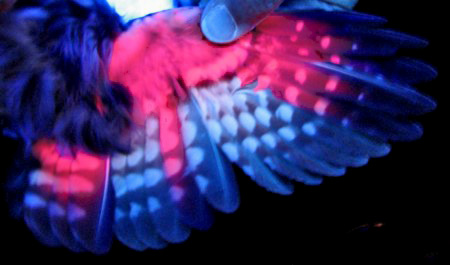 Telemetry videos: 2010 80 observations, 2008 43 observations
Banded at Westchester Community College, 11/08/03
| | |
| --- | --- |
| 1. Tick-borne diseases: | Lyme Disease (NY Times) |
| | Gertrude R. Battaly, Durland Fish and Robert C. Dowler . The Seasonal Occurrence of Ixodes dammini and Ixodes dentatus (Acari: Ixodidae) on Birds in a Lyme Disease Endemic Area of Southeastern New York State. Journal of the New York Entomological Society, Vol. 95, No. 4 (Oct., 1987), pp. 461-468 |
| | Ehrlichiosis (Emerging Infectious Diseases) |
| 2. Northern Saw-whet Owl Ecology: | roost sites, feather isotopes, |
---
| | |
| --- | --- |
| Return to Bat's Bytes | © Copyright 2010 by Gertrude R. Battaly |