Panko Press 2013 Dailies Oct 13 2013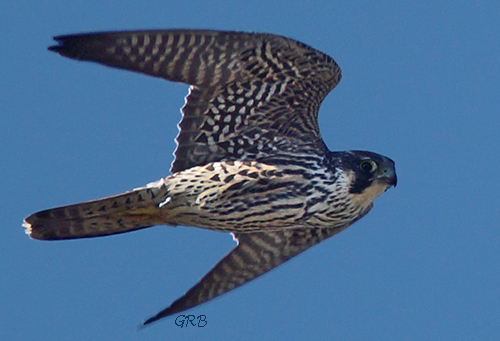 A Peregrine flies over our heads

It's October and the Falcons have arrived!

**First came the Peregrines, on 10/5.**

On the 4th, 5th and 6th we were on the dividing line between cool air from the north and moist air from the south. We were in the northern air mass on the 4th, but a warm front moved north and sat just south of us on the 5th with some showers moving along it. A larger group of showers were north of us, moving off of Cape Cod at dawn.

On Fire Island, 10/5 dawned dank and dark. Islip reported fog/mist overnight, changing to overcast 3 hours after dawn. The watcher reported good visibility and 100% cloud cover with NE winds at the watch.

A few MLs and PGs passed the watch until, at 1:00 DST, the winds shifted to the south, the visibility improved and the PGs started passing - 35 in two hours - and stopped just as quickly. A wayward TV passed the watch after 3:00pm.


10/5
TV - 1
OS - 4
NH - 8
CH - 1
AK - 5
ML - 34
PG - 46
Were the PGs passing off shore all day, and just came to the barrier beach on the southerly winds? Or were they held up by the rain in Cape Cod, started south when the rain cleared at dawn, and arrived at Fire Island between 1pm and 3 pm?
*
*Then came the Merlins. They waited until the 8th.*
*
A well defined cold front was traveling our way on the 7th, passed us during the night and was offshore by dawn on the 8th. Islip reported strong, gusty northerly winds, but they were NE to E at Fire Island. And
the Merlins came - 242 of them!


10/8 _
OS - 32
NH - 15
SS - 14
CH - 3
AK - 132
ML - 242
PG - 9
Although it was a pleasure to see all those MLs (new record for the date!) it is not entirely good news. As with most hawks the young-of-the-year (YOY) migrate first and we should have counted the young before 10/8. It is likely that many/most of these MLs were adults, migrating earlier than normal because they did not have many young to raise. We did see a number of adult males. If this is true, the Merlins will not make up their deficit and will likely end up below average. If, however, the YOY were late off the nest and late migrating we'll end the year with a bumper crop..... There is only one way to find out -
"Keep on Counting!"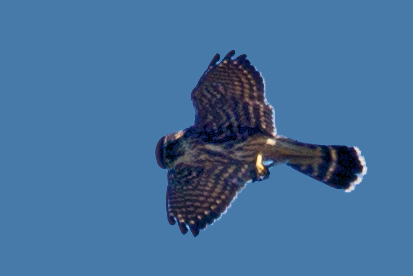 Merlin Eats Dragonfly, another migrant
flying along the barrier beach.
There was also a huge number of Yellow-rumped Warblers on the beach that day, all trying to dodge the ML talons (some didn't make it)!