Celebrate 36 years of hawkwatching with
35 years of full-time coverage


Celebrate a New Osprey Record - Day and Year!!



Fire Island Hawk Watch, 1982-2017
Join us for a Lunch Party at:
Register The Corner Galley Directions
5411 Merrick Road
Massapequa, NY
(516) 798-9018
Date: Sunday, December 3, 2017
Time: 12:00 - 3:00 p.m. Cost: $29.00 per person
Choice of Chicken Parmigiana, Sliced Steak Burgandy, or Broiled Flounder,
with salad, beer, wine and soda. Includes ice cream and coffee or tea.
Please complete the form below so we know how many people to expect.
---
Register for our 35th Anniversary Celebration!
---
DIRECTIONS to the Corner Galley: (map below)
From the Southern State Parkway:
1. Merge onto SEAFORD OYSTER BAY EXWY/NY-135 S via exit number 28A S toward SEAFORD. 1.93 miles
2. Merge onto SUNRISE HWY/POW/MIA MEMORIAL HWY/NY-27 E via exit number 2E toward MONTAUK. 3.01 miles
3. Turn RIGHT onto UNQUA RD. 0.75 miles
4. Turn LEFT onto MERRICK RD. 0.15 miles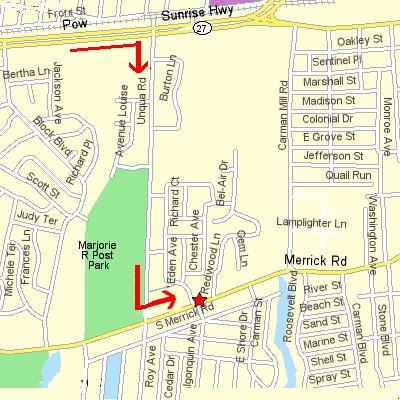 ---
Webmaster: Trudy Battaly merlin@pipeline.com or BAT'S BYTES Updated: 10/25/17