When Susan Fogleman first visited Little Round Top her backpack did not bear data sheets, lunch, a compass, windmeter, thermometer nor any of the other tools she carries today. Instead she bore a 10-month-old and the accoutrements necessary when lugging such a package into the field. A few days later she carried the same, along with some Tonka toys for the 5-year-old who scurried up the trail ahead of her. She had become hooked on hawk watching.
In those days the late Elizabeth Phinney was the site leader, having succeeded the late Bob Smart who was the first to set up a watch there. Ms. Phinney's able assistant was a local lady, Vera Wright. Vera's sharp eyes could spot the most distant specks which would ultimately turn into identifiable raptors or sometimes a surprise, like a Pomarine Jaeger.
Susan wasn't lucky enough to see a big kettle back then, but having devoured all the literature on raptor migration that existed at the time, she realized that "you have to be there." The kids grew, baby Vicki got potty-trained on the site (wish we had a photo of Susan hiking up the hill with potty hooked on her belt!), her brother went to school, and Susan absorbed excellent ID tips from her mentors.
Later on she was able to make the trek almost daily, and eventually became a co-leader with Phinney. Somewhere during that period Mrs. Wright had recruited another local mom, Jane Westfall, who often brought her son Todd along with her. Jane not only turned out to be a very quick study but had the most awesome vision imaginable. To this day some swear that she can actually spot, through a mountain, a kettle coming toward the site. Todd, a middle-school student at the time, won a science fair award based upon his project on hawk migration.
In the years that followed, Ms. Phinney moved on to other things, Mrs. Wright only made occasional visits due to aging knees, and Susan and Jane became the "keepers of the site."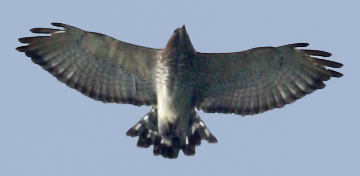 Broad-winged Hawk
One late afternoon in September, Susan had to leave to meet her children's school bus and Jane was alone on the hill. Every hawk watcher dreams of the really big kettle, but every hawk watcher always hopes s/he will not be the only one to observe and count it. Jane's dream/nightmare came true. She was about to leave when it hit. She was only able to count a certain portion of sky, knowing that she was missing at least as many hawks behind and above her. She counted over 4000 Broadies that afternoon, and who knows how many she missed.
"Jane was alone on the hill. ... She counted over 4000 Broadies that afternoon, and who knows how many she missed."
Other great helpers over the years have included several "eagle-eyes," including Robert Vallieres (now site leader at Carter Hill in Concord NH), Chris McPherson and Jim Rufo. Stalwarts one and all have been Harold and Karin Karagozian (now there's a story!), and Wavell Fogleman.